Educate, Inspire, and Empower Young Women to Lead Healthy, Confident Lives.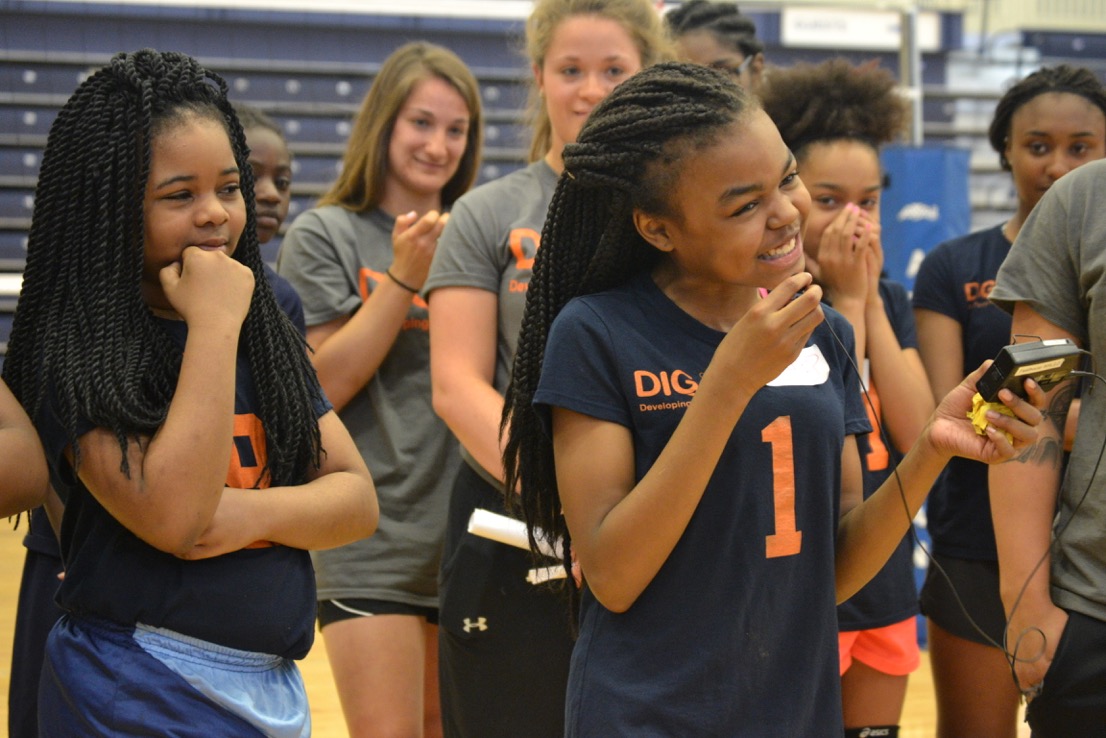 Developing the Inner Girl
DIG it!, an acronym for "Developing the Inner Girl", is a free after-school girls volleyball program that aims to inspire participants to lead healthy, confident lives.
OUR MISSION IS TO USE THE SPORT OF VOLLEYBALL AND CHARACTER DEVELOPMENT TRAINING TO EDUCATE AND INSPIRE AT-RISK GIRLS TO LEAD HEALTHY, CONFIDENT LIVES.
DIG it! is currently the only organization in the nation that provides free volleyball instruction and character development training for low-income girls in grades 4th-8th. We were founded by High Performance Volleyball Club and work in partnership with public schools and the Boys & Girls Club to provide a free after school volleyball program for over 150 at-risk girls at 11 different St. Louis public schools.
We see the DIG it! Program as an opportunity to use athletics, and specifically volleyball, as a way of increasing the confidence in young girls. A major focus in the program is not just to improve their volleyball skills and physical fitness levels, but to also motivate them in the classroom and teach them life skills that will help them for the rest of their lives.

- Executive Director, Caitlyn Vann
Volleyball Training
DIG it! Volleyball's biggest impact is made during the volleyball season when participants take part in volleyball practices and matches 2x/week. At each practice, players learn the basic fundamentals of volleyball which include serving, passing, setting, attacking, blocking, and defense. Additionally, volunteers conduct wellness sessions and place an emphasis on the importance of living a healthy lifestyle.
Healthy Living
DIG it! Volleyball is focused on encouraging a healthy lifestyle for our participants. At the beginning of the session each player is taken through a fitness test where we measure their physical fitness level through running, push-up, and sit-up testing. Over the course of the season coaches and volunteers continue to emphasize the importance of living a healthy lifestyle through wellness sessions.
Character Development
At each practice, DIG it! coaches lead participants through physical fitness activities. At the conclusion of the volleyball season, participants are again tested on their physical fitness level at to see which areas they improved, and what areas they should continue to focus on.
At DIG it! we aim to use sports as a way of developing the total person. The first 15-20 minutes of each DIG it! session consists of character development training where volunteers lead discussions on confidence, effort, anti-bullying, goal setting, body image, communication, teamwork, respect, and managing emotions.
Preparing for the Future
DIG it! Volleyball is dedicated to helping our participants prepare for the future. For those athletes who standout throughout the year, we offer a scholarship that goes towards participating on a select volleyball program. Additionally, year round we offer networking events and college campus visits to inspire participants to start thinking about their future.
Today's young women.
Tomorrow's leaders.
After school programs like DIG it! Volleyball boost academic performance, reduce risky behaviors, promote physical health, and provide a safe and structure environment for children of working parents.
Annual Report
Dedicated to change.
In 2015, only 29% of St. Louis Public School students graduated. At DIG it! Volleyball, we aspire to change that.
Despite an increased national focus on the state of urban education in many U.S. cities, very few quality athletic opportunities exist for children in the city, especially for young girls. Many urban elementary schools lack quality after-school programming for due to budget issues within the districts.
"According to a 2014 Public Agenda survey, low income and minority parents are much more likely than higher income and white parents to say they have trouble finding high-quality, convenient, and affordable activities for their children".
Girls in these schools are in need of more opportunities that promote physical activity and wellness education for females.
DIG it! Volleyball Inc. was created as a way to solve this problem by providing a free opportunity to participate in an organized sport for the population of young girls who have the least exposure to sports.